Hi everyone!  It's been a scorcher here in Arkansas this week (and the last month!) so I've been hiding out in the shop painting my heart out.  I hope you're enjoying this summer weather (that was sarcastic, fyi :P) where ever you are and having  a blast!
A few days ago I gave you a peek at what I've been working on:
Let me show you how it started out.  Nothing wrong with it really, just a little dated: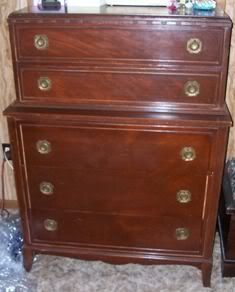 That's the craigslist photo from the previous owner.  I got all excited when I saw it! I'd never done a chest on chest before and had been wanting to give it a whirl.  It has all the original hardware on it too! HELLO you are mine! lol
I painted it with one coat of Martha Stewart oops paint in a light grey flat finish.  I was surprised at how well this paint covered!  It was my first time using Martha's paint and I will definitely be using it again!
I wanted this piece to really have some style so I mixed up a little bit of metallic silver and black craft paint to go over the details.  I hit the bead molding down the sides, the band around the top and the trim that sits on top of the little shelf separating the two "chests".
After that the only thing I did was glaze it.  I wanted the glaze to be dark so I used 1 cup of glaze and 1/3 cup brown paint, Expresso Bean by Behr.  I mixed it up well and poured it into a rectangular container.  I like to use half a t-shirt to wipe it on, just wad it up and go for it!  Flat paint absorbs quickly so keep moving.  I just rubbed it on, being sure to get in all the crevices and wiped it right back off lightly with a clean, slightly damp cloth.
Here's a pic of the chest with glaze and a drawer without.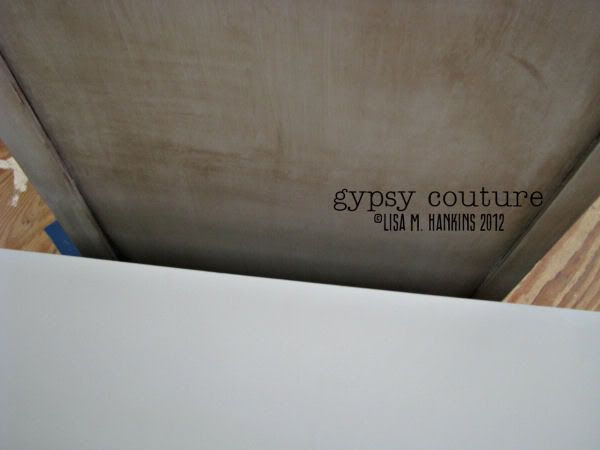 Huge difference a little glaze makes!
The original hardware was spray painted with Krylon Oil Rubbed Bronze.  This gives an amazing finish to any hardware.  I love it!
I was in love with how it looked and didn't do one more thing!  Well, my Mom put on a protective layer of polycrylic but that's it. :)    Here's how it all turned out.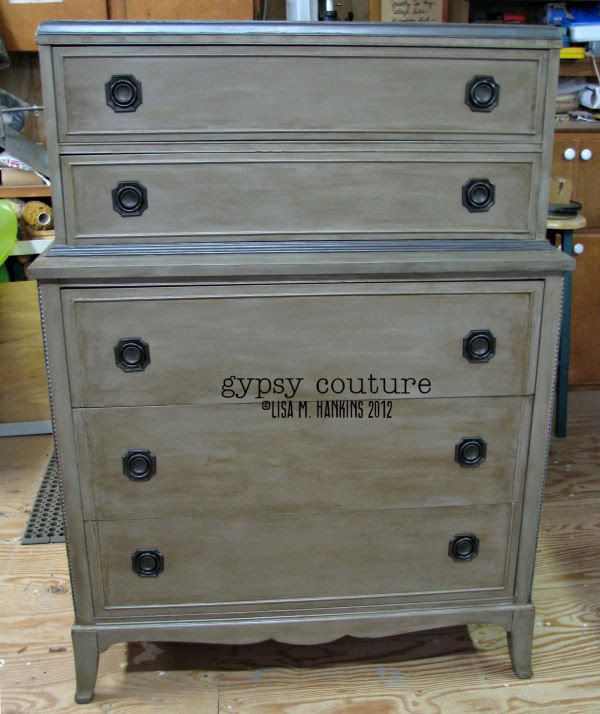 Here you can really see the metallic paint on the bead molding. *swoon*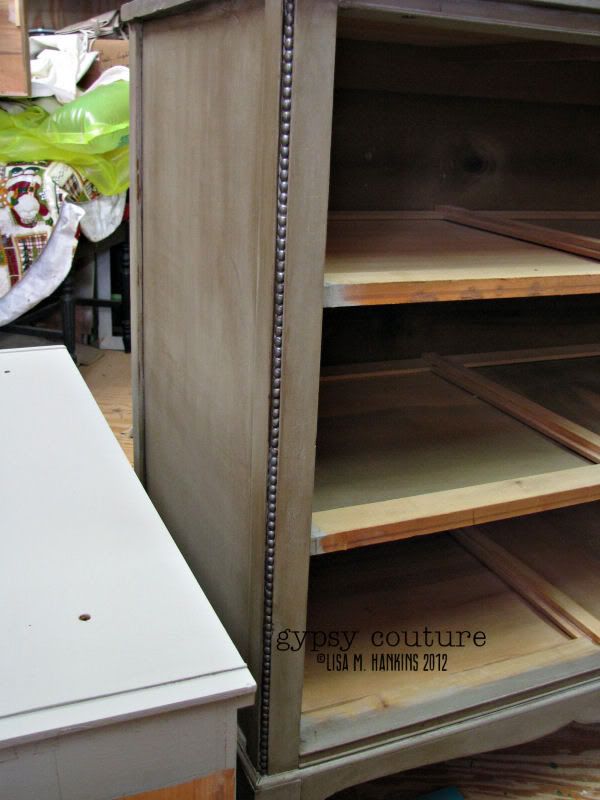 Quality control inspector, caught in action!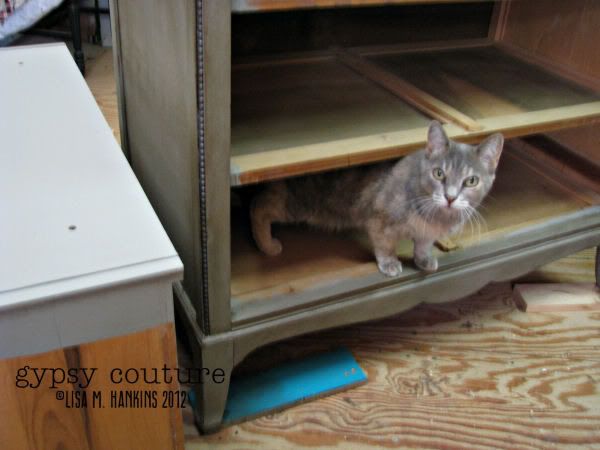 I hated to part with this baby!  Oh, did you notice there's no distressing?  I thought it had plenty going on already without it and I was right. *wink*
If you have any questions let's hear them!  I'd love to know if you're working on something and would be more than happy to answer if I can!
Linking up to these great parties!
Frugal Friday at the Shabby Nest
Saturday Night Special at Funky Junk Interiors
Weekend Wrap Up Party at Tatertots and Jello
Share Your Creations at Kristin's Creations
July Before & After Party at Thrifty Decor Chick
Sister Sunday Link Party at Sisters of the Wild West